An Interdisciplinary International
Conference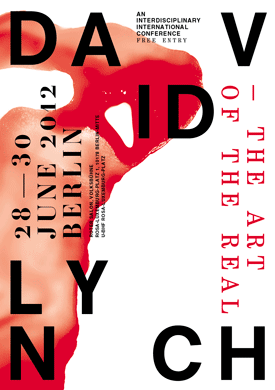 The conference will gather renowned researchers and academicsform varied fields and cultural backgrounds focusing on the art of David Lynch. Given the popularity of the subject and the discussed media, the conference is specifically designed to be open to a broad public. Legendary Volksbühne, well established as a forum for vivid discussions and exchange of opinions, is popular for a large audience. The official conference language will be English.
| | | |
| --- | --- | --- |
| Do 28.06. | 13:00 Roter Salon Eintritt frei,  | |
| Fr 29.06. | 10:00 Roter Salon Eintritt frei,  | |
| Sa 30.06. | 10:00 Roter Salon Eintritt frei,  | |
Conference Profile:
David Lynch, born 1946, counts among the most renowned contemporary film artists. As one of few directors he managed to excel as well on the experimental side of the film d'auteur (e.g. Eraserhead) as well as in the Hollywood feature (such as Blue Velvet or Straight Story), not to forget his mystery TV serial Twin Peaks which coined a whole new genre. This outstanding position demands a closer scrutiny of this work in terms of the changed media conditions and esthetic implications at the turn of the 21st century. Until now, there has been no serious academic conference in Germany dealing with the complex intermedia influences and esthetic transfers from other arts in David Lynch's film oeuvre. There are to name but a few exhibitions referring to Lynch's esthetic relationships to Jackson Pollock or Francis Bacon, to specific design aspects, and to authors such as Franz Kafka or related to media issues (TV, comic strips, internet).
This conference, now, sets forth to follow the question which role the structure of these supposed influences play in the work of David Lynch. In addition, we will analyze if and how they define his special position within film-making and if they can thus be considered as a phenomenon of a new esthetic experience in terms of a changed media context.
Consequently, we will ask the question of a possible political dimension of Lynch's work: Which critical value can be attributed to Lynch's esthetics, if it is considered as a unique mise-en-scène of the non-representable "Real" of the Western post-industrial society?
Conference Structure:
The conference treats four areas, being discussed by three lecturers each over a total conference span of three days.
1. Psychoanalysis
2. InterMedia
3. Genre Composition
4. InterArt.
The lectures will last about 30 min. each, to be followed by discussions of approximately 30 min. The lecturers are coming from major universities in Germany, Switzerland, the Netherlands, France and the US.
http://www.volksbuehne-berlin.de/praxis/david_lynch_the_art_of_the_real_an_interdisciplinary_international_conference/